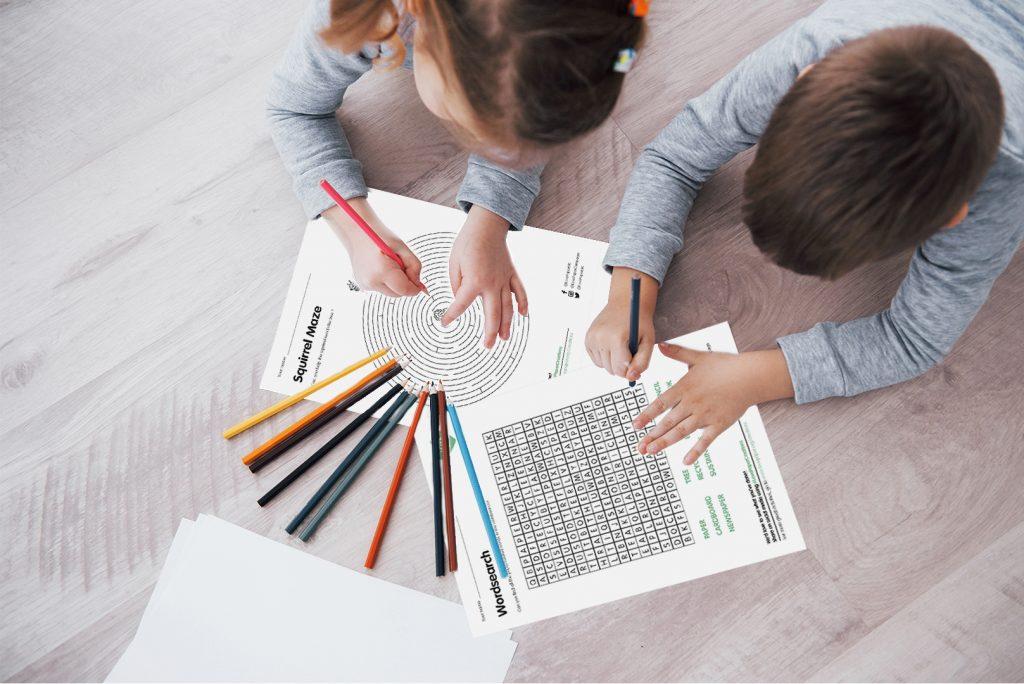 We've created 7 pen and paper games for children and families to enjoy. It could not be simpler to enjoy some time as a family or give the children an activity to enjoy away from any screens or digital devices – giving them some much needed respite.
Pen and paper games for children and families
Grab a friend or family member and print off 2 copies. Use the letters to map out your ships (vertically or horizontally). Each player hides ships on one grid and uses the other to mark where they have 'hit' their opponent's ships. Players take turns calling out row and column coordinates on the other player's grid to identify a square that contains a ship. Whoever hits all their opponents ships first, wins!
Take it in turns at joining 2 dots together (vertically or horizontally). If your line makes a box, put your initial in it and have another turn. If the box you complete contains a tree, you get two points. When all the boxes are made, the person with the most points wins!
A classic game where you and an opponent Take it in turns drawing a circle or cross in the boxes.
Get 3 in a row to win!
Get into teams and pick an item to draw at random and draw it on a piece of paper. Take it in turns with a 60 second time limit to see who can guess the most correct. Whoever has the most points at the end wins!
No opponents needed for this one! Just take a pen and work your way through the maze to get the squirrel to the tree. Sounds easy, right?
Did you know that there are over 60,000 different types of trees in the world? Have a go at drawing as many different types of trees that you can think of!
Another classic, just find all the words hidden in the maze of letters!
Don't worry, we've created templates for you so you can play all of the pen and paper games above.
Just click here.
The Love Paper activity sheets are completely free to download, and include much more than just the games above. Find paper crafts and origami, puzzles, drawing, colouring, and writing activities.
Share your paper creations on social media using the hashtag #lovepapercreations and follow the campaign at:
Instagram: @LovePaperANZ
Facebook: @LovePaperANZ
Twitter: @LovePaperANZ